Find out what makes Hiking, Trekking, Backpacking, and Mountaineering all different!
You love spending time in nature.
You go walking for hours with a group of friends, setting up your campsite, making a fire, cooking food and sleeping under the stars. You go on three-day trips and take everything you need to rough it out.
When you go for longer trips to more remote areas, you plan a little better. You pack smarter, and maybe take a smaller tent (because walking for ten days will make things seem heavier).
And one day, that 20-day trip, in that very remote area, needs to be ticked off the bucket list.  You've been thinking about it forever - you must do it!
On your first day back at work after your trip, everyone is asking you questions. Tou tell them of all the beautiful scenery that you saw on your...? 
A lot of people get confused on this topic. Was it was a hike, or is it a trek? Was it a backpacking or mountianeering trip? "No, it's a hike, definitely a hike. But it was longer and really difficult, so maybe it is a trek..."
Not sure what to tell the people at work or at home? Well, you are not the only one. 
So let's talk about the differences between hiking, trekking, backpacking and mountaineering. Make sure that the next time you go on one of the four, you'll know which is which.
We'll start with Hiking as it the "easiest" one.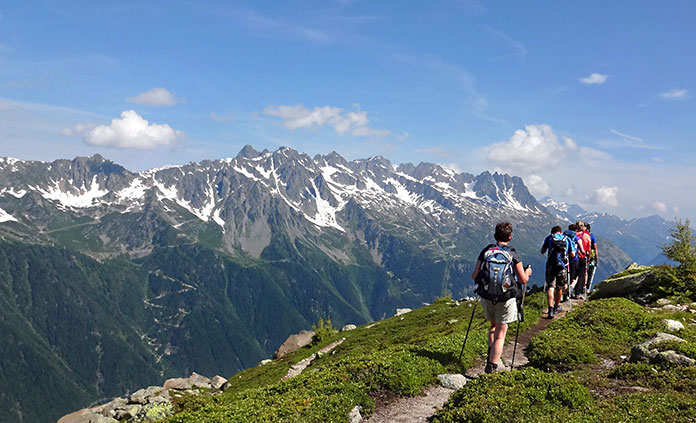 Hiking, in general, refers to the act of walking for longer periods at a time.
It is done for enjoyment and to spend time in nature. Walking next to a river on a path, or through the woods on a narrow trail, is considered a hike.
Usually, it'll last for half a day or full day trip on a specific route. The route is laid out, maintained and marked. You usually go from point A to B and then back again to where you started.
The routes will vary in degree of effort requires and level of fitness. Is the trail an easy or hard one. We will talk about "easy' a little further into the article.
Hiking can include a half-day or a full day trip. For these types of trips, not a lot of planning or supplies is required. Basically, it's just a long walk in nature, with some food, water and maybe an extra layer of clothing. Oh, and extra batteries for the camera!
Examples of day hikes include:
The Tiger's Nest in Bhutan

King's Canyon in Australia

Puez-Odle Altopiano, Dolomites, Italy

Plain of Six Glaciers above Lake Louise

Faulhorn in Switzerland 
Then there's Backpacking 
When the hike includes an overnight stay, it is referred to as backpacking.
These are your three, five and ten-day trips. It requires planning, food, supplies and gear and that you camp. 
You walk on narrow trails, and carry your own equipment. Then, you set up your own tent and cook your own food. When you backpack, you have to be prepared and ready for anything - and to handle it yourself.
Examples include

:
Mount Rainier Circuit

Torres del Paine Circuit, Chile

Annapurna Circuit, Nepal

West Coast Trail, Vancouver Island, BC, Canada
Special Point of Consideration*
Now, before we talk about trekking, let's talk about the concept of "easy" when comparing hikes, backpacking, mountaineering, and trekking.
It would make a lot more sense to use the word difficulty instead. Trails are usually classified in this way when describing the level of effort it takes to navigating a trail.
However, it wouldn't really be very accurate to use level of difficulty of a trail to distinguish between hiking, backpacking, mountaineering and trekking. The difficulty of a trail is a subjective concept.
As an example: a trail might have a steep elevation and two people with more or less the same level of fitness has to walk up the trail. One person is a runner and has the stamina to walk up without getting tired, but has weak knees, and so it becomes difficult. The other person is physically strong but doesn't do a lot of cardio workouts, so while their body doesn't feel tired. They are still really winded after walking up the steep elevation.
So the difficulty when completing a trail is really dependent on the persons' abilities.
We will look at another comparison of difficulty between hiking, backpacking, mountaineering, and trekking later on. 
The difference between Hiking and Trekking! About time.  
Trekking means that you are making a long, challenging journey on foot.
It is a long hike, that
stretches over multiple days

in often very remote, rural and very undeveloped areas.
Treks will take you not only through nature, but also areas where there are villages in which people have been living, for the most part, undisturbed in their ways for hundreds of years.
So apart from the fact that you spent time in the great outdoors, in trekking (and also in backpacking), you will also get to connect with people from the area!
You may learn about their culture and customs, and usually eat their food. In some cases, if you stay with a host family, you also get to see first hand how they live.
When you look at the preparation and planning that goes into these different trips, you can also clearly see the difference between hiking vs trekking, backpacking and mountaineering.
Depending on where the route of the trek will take you, you might be out of civilization for easily up to 20 days!
You might be away from towns for most of the time during the trek.  Be sure to pack what you might need, or you will just be without it for the duration of the journey.
Most often, treks are booked and organised by an agency, as there is also paperwork and permits required that they can organize on your behalf.
This will save you lot of time, money and frustration, to not have to do it yourself. On a trek, you will most likely have a guide, and often on longer treks, also a porter. Unless there are lodges to stay at along the way, and you have to camp, you will also be accompanied by a cook.
The guides organize and lead the trek. The porters meanwhile, help you to carry your equipment as for on these long journeys, as there are quite a few things that will have to go with.
Another aspect that makes a trek different from hiking, backpacking, and mountaineering, is that you will often not camp, but stay over at lodges or huts. Sometimes even bed and breakfast, or with host families along the way.
Here you can rest better and meals will be prepared for you. This cuts out on a huge amount of equipment that needs to be taken and carried with by porters.
Treks often don't finish in the same place that they start, and you can end up 100's of miles away from where you've started! Some of the longer and more popular treks can last for several weeks.
Examples of some well known trekking trips:
Inca Trail

Everest Base Camp

Kilimanjaro

Tour du Mont Blanc,

Wicklow Way in Ireland 
And finally, Mountianeering 
One other aspect that we should briefly look at, just to get everything in context, is mountaineering.
The reason to consider this is that often, this is where the confusion between hiking and trekking and backpacking can start to creep in.
People think that trekking is partly mountaineering, and that trekkers have the same journey and challenges in so far as actually going up to the higher peaks and the very technical aspect of it. This might be true in a few instances, but actually, mostly, not at all.
For mountaineering,  you need special training and equipment. It is, you can say, a more advanced form of trekking. You need to be
very sure

how to use it to keep yourself alive.
You would need to know, for example, how to climb on ice with crampons and an ice axe. You would need to know how to survive in snow storms and rescue yourself with an ice axe.
You need to be strong enough to be able to endure long hours of ascending with extremely low levels of oxygen. It is the ultimate outdoor experience. You need to be strong and fit and very healthy to take on this adventure.
Levels of Difficulty
As mentioned, we need to look at another aspect that separates hiking and trekking, backpacking and mountaineering on the level of difficulty.
The infrastructure that supports trekking trips (treks) are very different from that of hiking and backpacking.
Trails and paths on treks are wider and often better maintained. It is very busy with other trekkers as you can usually only go at certain times of the year and there are also are guides and porters with the most groups - more people. Then on top of that, in many instances, the local people also use the same paths.
Trekkers get assistance with carrying gear from porters, told where to go and stay over from guides who make and confirm these bookings for them and have people preparing meals for them (not in all instances obviously, but in many). The challenge for them is the distance they cover and the elements they face. A hard and challenging journey, yes, but not difficult per se.
Hikers and backpackers and mountaineers, on the other hand, are responsible for everything themselves.
They carry their, gear, set up and break down campsites and cook their own food. They climb over rocks and brave rough terrains and find their way by navigation, often without guides. They have to pack, plan and prepare for all eventualities that they might face. In light of this, a more difficult journey to prepare for than that of a trekker.
Of course, there is also mental stamina that might need to be considered when comparing these adventures.
It is much more mentally challenging to go trekking / mountaineering for weeks on end. Braving every element, and fighting with your own endurance and physical abilities, than it is to spend time in nature for time days in a tent, even if it rains every day. The latter will make you tired, annoyed and wet and the former can bring you to your knees if you are not prepared for it. Imagine the disappointment of having to turn back a group of 8 on a journey of 40 days on day number 33 just because you have altitude sickness and can't continue. Or being away from loved ones for 20 days with virtually no contact.
Main Differences in the Types of Gear Used
There are many differences in gear ranging from the best camera for hiking, to choosing the right footwear.
Footwear
Choosing the right footwear for a hiking, trekking and mountaineering or backpacking expedition is really important.
There is no point in wearing cumbersome mountaineering boots for a day hike and likewise, wearing a light hiking shoe will only lead you into trouble on a steep mountain slope.
So here are three really great choices of footwear that will stand you in good stead for your next hiking, trekking or mountaineering trip.
Here are the Best Choices of Outdoor Footwear
The Merrell Moab Ventilator is the best choice for hikes and the Women's Ventilator is equally as comfortable, durable and lightweight.
It is made with water-resistant leather and a durable mesh upper which has been strategically constructed to offer ventilation and support to your feet. The Vibram sole which is made of a special rubber compound, gives great stability and grip off the beaten track.
You may find that on slippery or algae covered surfaces that the soles might not grip, but for the greatest part most day hikes are on well-maintained trails and not over free terrain, so shouldn't pose a problem for you.
If you are looking for comfort and durability for your hiking experience, then the Merrell Moab Ventilator is a super choice.

---
If you want a real tough, value for money trekking boot, then the Timberland Chocorua is the winner.
This rugged boot is made with full grain waterproof leather and tough Gore-tex material. The inner of the boot is also made with Gore-tex which is a breathable material, so it keeps your feet dry and ventilated on a trek. Great ankle support in this design is crucial for trekking trips because you may cover uneven ground during a trek, with the possibility of a twisted ankle being likely; and can be avoided by wearing a boot like the Timberland.
Although the actual boot is waterproof, water can still get in above the top. This is easy to avoid by wearing a waterproof gator that covers the lower leg, it would be a great investment for trekking trips anyway and are usually quite cheap.
All in all an excellent boot for any trekking or multi-day excursion into the wilderness, you won't be sorry getting a pair of Timberland Chocorua Trail Hiking Boots.

---
The Scarpa Mont Blanc is an excellent boot choice for your next mountaineering expedition.
Scarpa went out of their way to bring a boot like this to you; it covers all bases for a great mountain boot. The boot is made with waterproof Gore-Tex material that is coupled with Vibram soles and a design that offers excellent ankle support.
It is also the lightest mountaineering boot in its class, which is a bonus for comfort on a steep mountain slope.
Sizing a mountain boot can be tricky, so it is best to consider that you would be wearing thick mountaineering socks and it's advisable to take a half to full size bigger.
Brilliant reviews across the board make your decision real easy, the Scarpa Mont Blanc will only prove itself as one of the best.
Conclusion
So now that you understand the difference between hiking, backpacking, trekking and mountaineering, you can confidently share what you did over the weekend.
You went backpacking with your friends for three days and you did a lot of hiking over the three days. This was for enjoyment and to spend time in nature.
In your off time from hiking, you were reading a book to help you plan to go trekking in Nepal in the New Year. You started thinking that if that one goes well, maybe you should look into also doing the trek to Everest Base Camp.
And while you are planning these trips and actually going on them, you are going to start training a little harder on weekdays, so that maybe one day, you can be fit and strong enough to be part of a mountaineering group that can climb Kilimanjaro.
We hope you enjoyed this article! If you have any questions, please let us know! 
Check out our Hiking E-Books: